Zoe Powell- Update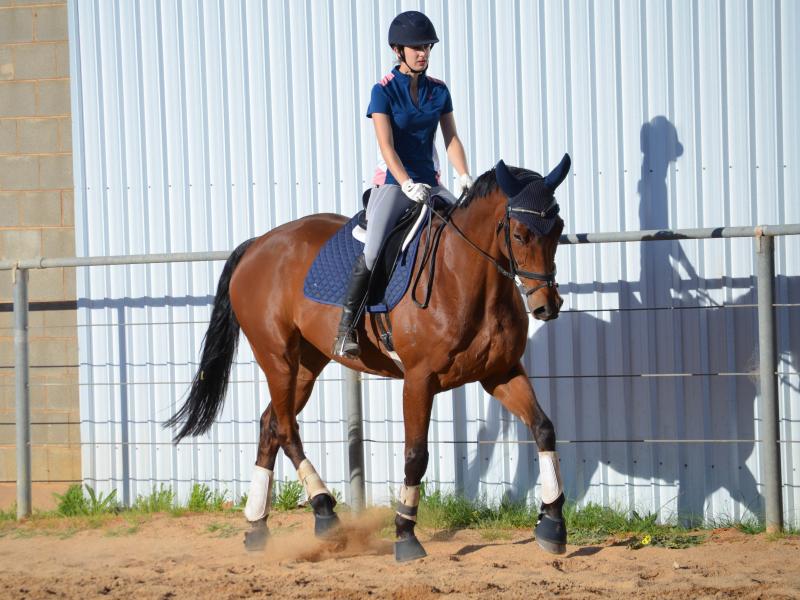 After Huck enjoyed almost the whole of October off on a well earned break, November marked the beginning of two exciting new projects and a trip to Adelaide 3DE!
Firstly, I started a full time job at BMG Showjumping in Duffys Forest. I am lucky enough to help Sarah work her horses daily and have been given the opportunity to retrain a four year old off the track called Kiwi. Kiwi raced unsuccessfully in Melbourne Cup this year and had his first ride with me 2 weeks ago! Only four rides in and he has learnt to go forward at a steady pace and steer off the leg. In the coming weeks we will work on accepting the contact whilst going forward and will have a crack over a few small jumps to see what his like!
Secondly, I started work with Hedgrerow Performance Horses schooling and the re-education off the track thoroughbreds… and incase you can't tell by now I have a massive soft spot for OTTT!!! This month alone I have sat on over 10 different Tb. The knowledge I have gained from this short month alone is irreplaceable and has shown me the true versatility the Thoroughbred can offer.
Lastly, the annual trip to watch Adelaide 3DE! I arrived mid-afternoon on Thursday in time to watch the end of the 2** dressage. I was lucky enough to catch sponsor rider Sophia Landy's promising dressage test on Hughie followed by her killer xcountry round coming in clear and on time and then her outstanding showjumping performance that left her in first placed junior rider and 6th overall. This trip fuelled my ambitions to be there by 2020!
On another note, I am in love with the new Dublin BLACK range. I have been rocking the new Alegra print competition top at home and can't wait to show it off next year! I have finalised most of my events for next year and can't wait for January to come to get back into competing!
Until next time
Zoe