Sophia Landy- Update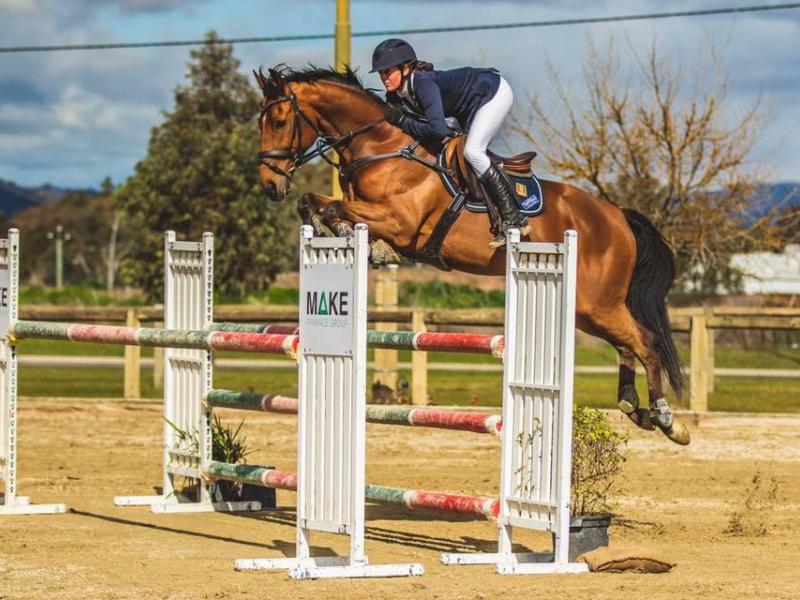 After enjoying a few weekends off during the off season, we are back into it at full swing, having had 6 horses out competing show jumping and eventing throughout August. We couldn't have asked for a better start to the season, having already had a few great wins and placings on the higher level horses Geisha and Hughie and great confidence boosting outings on the younger less experienced members of the team.
While the weather was less than ideal, Geelong SJ Club Show still proved to be the perfect way to start the season. On Saturday Hughie placed 2nd in the 115cm class, followed by Geisha tackling her first 125cm track in the Young Rider Championship, and coming away with 1st place! Sunday proved to be a repeat performance, with both horses jumping sensationally in the 120cm Silver Championship. Geisha took out the win, with Hughie just behind her in 2nd place! I was also thrilled to be awarded as the leading rider in ring 1 for the show, and Hughie was awarded as Best Performed OTT TB. What a show!
We headed up to Albury for the BDSJC Show the following weekend, and Geisha and Hughie proved just how in form they are with another fantastic show. Geisha placed 4th in the 115cm Speed Class on Saturday, and Hughie jumped superbly around his first 125cm track, to also place 4th! On Sunday they both jumped in the 120cm Championship, which proved to be a very competitive class with over 20 horses in the jump off. Geisha came away with 1st place, blitzing the field by a whole 3 seconds! And Hughie also put in an awesome jump off to finish 3rd! For a relatively green horse he is stepping up to become quite competitive. Hughie was also awarded with the John Canning Memorial award for the best performed young horses 7 years and under, an exciting award to receive. The other horses at the show also jumped super, with Chuckle picking up 4th place in the 104cm class. Milo jumped clear rounds in the official 105cm and 115cm classes. Zachord stepped up to jump some great rounds around 100cm and 104cm tracks. Cricket the newest member of the team jumped super and is showing lots of promise for the future.
Finally it was back to the Eventing scene for Friends of Werribee HT, the first Horse Trials of the season. Geisha placed 4th in the CNC 2**; she was quite fresh and naughty in the dressage but jumped a super double clear.
Hughie once again put in a top effort, doing a great dressage test and jumping double clear to place 2nd in the CNC 1*! I am very excited to step him up to 2** at Spring HT in a fortnight. Chuckle jumped double clear and did a super cute dressage test in the EvA 95 to place 6th. Cricket, the newest member of the team loved his first Horse Trials, being all calm and sensible in the dressage and jumping double clear around the EvA80. Sapphire was super in all three phases in the EvA 95, unfortunately a small jockey error on cross country cost her a placing but still a great event for her. And Zachord saw some ghosts in the dressage and became a fire breathing (very flash) dragon, show jumped clear, and cruised around cross country nicely with one green mistake. We took 6 horses and one highlight was all 6 horses jumping a clear show jumping round - we definitely have that phase down pat!
Photo via:
Geoffrey McLean