Sophia Landy- Update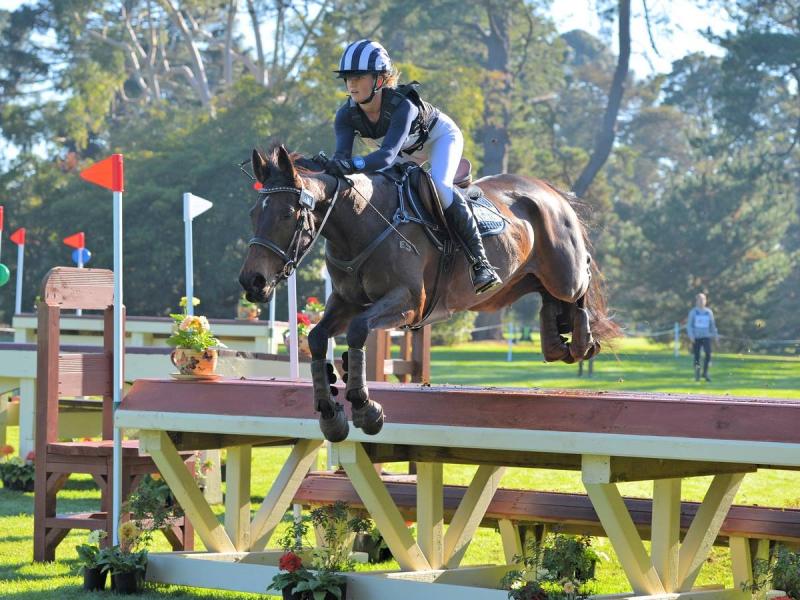 Melbourne International 3DE
Geisha had a fantastic run at Melbourne 3 Day, starting off with a great, calm dressage test, her best one to date. It was a massive section of 90 competitors, and she was placed just below midfield. She then proceeded to make light work of the technical cross country course, coming home clear and well under time. There was a lot of trouble out on course, and she made a significant climb up the leader-board. She pulled up perfectly after the cross country, and proceeded to jump a clear show jumping round on the final day. This moved her up into the placings (just!) with a 15th place rosette. I couldn't be happier with how she performed, her best dressage test to date and then finishing on that score! It was a super event for her.
On the other hand, Melbourne 3 Day did not go to plan for poor Hughie. I had a great ride on him when we arrived on the Wednesday, but come Thursday morning (trot up day) he was non weight bearing on one of his hind legs, having shifted his shoe overnight. We did everything we could to have him right in time for trot up, but in the end simply ran out of time. He went from non weight bearing in the morning, to about 90% sound for trot up. We decided to give it a go, and in the end it was so close, but not quite enough to pass and sadly we were spun – ending our event before it even began! By the next morning he was completely better (of course!) and I had another great ride on him. Talk about seriously bad timing. At least he wasn't actually hurt though, and we ended up putting a late entry in for the Saturday night entertainment speed class, where we dressed up as a cowboy and pulled off a clear round and 6th place.
Chuckle competed in the 5yo Young Event Horse Class, and coped amazingly with full on atmosphere in the indoor. Brad and Craig from Top Foda put on a great free BBQ in the indoor and it was a massive hit, making it quite the experience for young horses. She jumped a clear round and finished just out of the placings in 7th place.
Finally Zachord, an OTT TB by Zabeel who I have been retraining for Rockmount, took part in the Off The Track Showcase, and wowed the judges to be selected as the "Top Pick" of the Masters sections.
Quirindi 3DE
Quirindi 3DE was not part of my plan of events for the year, but as happens with horses, sometimes things don't go to plan and after Hughie having a bit of bad luck at Melbourne 3DE he has missed out on a qualifying run. This is what lead us to road trip 12 hours into the drought affected northern NSW! We took Geisha as well, seeing as we were going so far it made sense to try and make it more worthwhile! Hughie passed trot up no worries; we were off to a flying start! He then put in a great dressage test. Unfortunately I made a few small mistakes in the final movements of the test costing us some precious points, but Hughie had tried super hard and done some of his best test work to date so I was happy. He scored 61% and was sitting 9th. He then began the climb up the leaderboard, jumping clear and under time cross country, backed up with a clear show jumping round. It was a sigh of relief to finish on a qualifying result having driven so far! To top it off his finished in 4th place – unfortunately we couldn't beat Shane Rose who took out 1st, 2nd and 3rd! We also won the award for best performed Young Rider.
Geisha also had a super event, as always lots to work on in the dressage with her, but a qualifying score of 57%, backed up with double clear jumping in the CNC 2** to finish in 5th place, and once again, best performed Young Rider. It is my last year as a Young Rider so it is nice to make the most of it! Now both horses are going to have a well earned rest!
Photo credit: Derek O'Leary