Sophia Landy - Rider Update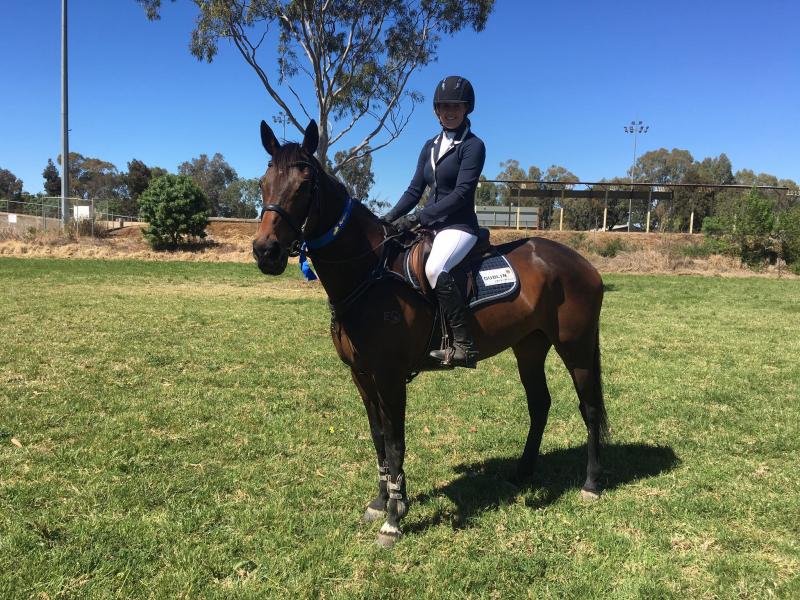 After a fantastic weekend at the EV Spring HT where my new OTT TB Hughie started his eventing career in serious style with a win in the EvA 95 class, we were back home and in for a busy week! It was school holiday horse camp time and I had 6 young riders staying for a fun filled week of horse activities and riding lessons. It was a great success, everyone had a ball and showed lots of improvement throughout the week. I'm looking forward to the next camp which will run in January. Throughout the week I managed to keep my horses ticking over, and on Saturday morning Andy and I left for Albury Horse Trials, with Andy filling the head groom position for the weekend, and Ros staying behind to look after everything at home! :/ While this was a slightly concerning role reversal, Andy had everything covered (though he definitely cheated by getting the horses plaited up by the girls at home before we left!) and the event ran very smoothly despite having three horses with close times. Hughie jumped double clear again in the EvA 95, this time coming away with 6th place, a super effort for his second horse trials. Geisha and Luna competed in the EvA 105, and although they didn't place they both showed some great improvements.
Back home from Albury and I was in for another busy week at home. This time rather than coaching, I had the pleasure of being coached! My coach Ken Jelbart came and stayed for the week and gave me lessons every morning with different horses which was, as always, incredibly useful and a good opportunity to fine tune my riding and training techniques. I saw some massive changes in my horses which was exciting.
The next weekend we were off to the NVSJC show, a local show that is definitely a calendar favourite! Geisha kicked off the weekend in style, taking out the win in a competitive 105cm speed class! All the lessons during the week had definitely paid off, because she was the softest and most rideable she has ever been. She also jumped super in the 1.10m class the following day, going clear in the first round a doing a competitive jump off. She led the class for a while but in the end slid back to 7th to finish just out of the placings. I couldn't have been happier with her efforts. The three other horses on the truck were all green/young horses who showed good progress. Hughie jumped around his first 1.10m, confidently and with plenty of air, though we still have lots of fine tuning to do, I got some amazing feelings on him over the practise fences, just need to work on emulating that in the ring and keeping it together over more than just one jump at a time! Barcelona and Carronade, both clients horses did well and showed lots of progress, making it all in all a worthwhile show.
We got home from the show on Sunday night and got to meet the newest member of the family, a gorgeous colt foal by Valhalla!
The final weekend of the month, Andy and I headed off to Tooradin Horse Trials with just two horses! It was a bad weekend results wise but we had a great time nonetheless and there were definitely lots of positives to take out of it! Geisha did her best dressage test to date, but unfortunately came unstuck in the 1* cross country, having three run outs at a skinny brush and getting eliminated. Lots of skinny training to be done before our next start!!! I chose to show jump anyway and she jumped a great round, with one rail down over a challenging and undulating track. Hughie's let down phase was unfortunately the dressage because he became very tense and hence showed a bit of resistance and basically lost all the nice work we had been doing at home. It was however a good opportunity to school him in the ring. He then finished on a high note, jumping a double clear in the EvA 95. Now time to nail all three phases at one comp!