Sophia Landy - Rider Update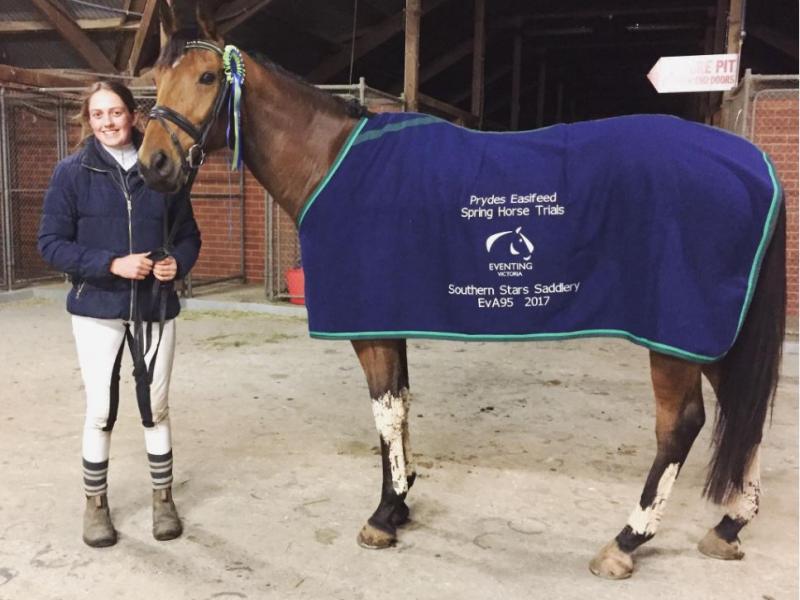 We have spent more of September away than we have at home, with what seems like event after event! We had a low key outing to kick off the month at Bendigo Dressage and Show Jumping Day. We took four horses and they all cleaned up! Luna Eclipse was reserve champion of grade 1 dressage and reserve champion of B grade show jumping. Hughie was champion of grade 2 dressage despite it being his first ever dressage tests and champion of B grade show jumping (What a good boy!). Lusty my young ISH and Barcelona, Penny Ward's OTT TB also did their first ever dressage tests in the grade 4, with Barcelona winning champion and Lusty reserve champion. The only dampener of the day was that I managed to get a speeding fine in our rather slow truck on the way home!
The following weekend we were off to Boneo Park for the Boneo classic, this time with just one horse which was very strange! I am so used to riding heaps of horses and being flat out at events! Geisha was the lucky one on the float, and while we didn't have the best show, having rails or a rail down in each class, I did feel like we made a big improvement over the three days of jumping which was great. She has changed a lot recently, in her muscle development, strength and way of going, all for the better, but I am having to adjust how I ride her a bit and work out all the new buttons! The real winner of the weekend was my boyfriend Andy who went to his own show – a cutting show – and won the prestigious Mare Stakes Rookies Championship on his mare Ebs, which was very exciting!
We were back home for a couple of days and then off again, this time to Werribee for the Australian Show Jumping Championships with Geisha and Hughie. We finally nailed the clear rounds with Geisha, and managed to qualify for the final of the Emerald Series with some of her best jumping to date. She even managed an 8th place out of a big field (90 starters) on the first qualifier. In the final itself we unfortunately had a rail down, but I was very happy with how she jumped overall, and feel like I have learnt a lot about the ride I need to give her. Hughie, or Humble Glory as he is registered as, was a star, showing off some incredible scope which has shot him up my favourites list and onto the keepers list! He jumped in the 100cm and 104cm height classes each day and did some great clear rounds. He is still green, but with every round developed more of a flowing feeling and began to feel like he knew his job quite well! At this point in time he has blown me away, having only been jumping for just over two months!
After a busy week at home, Andy and I loaded up four horses for a different kind of trip away, en route to Tooradin Estate for the holiday camp I was coaching at, and also a visit to my grandparents farm. We had a lovely time at the farm, where we were spoilt by some amazing sunshine and even managed to brave a swim in the cold ocean water! At Tooradin, in between coaching at the camp, I enjoyed cross country schooling Luna, Hughie, Geisha and Lusty over the fantastic cross country course, getting them prepped for the Spring Horse Trials at Werribee.
We had a fantastic weekend away competing at the EV Spring Horse Trials, with all the horses stepping up a level for the first time. Geisha was doing her first ever 1* start, Luna was stepping up to EvA 105, and Hughie, my new OTT TB was having his first ever eventing start in the EvA 95.
I was thrilled with how all three horses performed, particularly Geisha for whom the dressage phase has been a constant challenge. While she was not quite ready for a 1* test, she tried very hard, stayed more relaxed than usual and showed a mixture of some really good moments and some not so great ones. I was thrilled she got an 8 for her extended walk, and amused by the comment on both counter canter serpentines being "oops" where she had performed beautiful clean flying changes! Oops alright! Despite this, I couldn't have asked for more from her for where she is at in her training, so I came out of the ring very happy, despite being right down the leader board. She then proceeded to jump one of only a handful of clear show jumping rounds, followed by a fantastic clear and under time cross country, proving she was ready to step up. I didn't push for time, and she is only a little horse so I was surprised to see that she made the time easily, and quite simply ate up the course! She was a little green in the combinations, but stayed honest and tried her heart out. I am thrilled with how she stepped up, and pleased to have finished in 14th place out almost 50 starters.
Luna had a great first EvA 105 run, doing a nice test, jumping clear and under time cross country, and just rolling two rails in the show jumping to finish midfield. It was a great performance for her first Pre Novice.
And the baby of the team Hughie was the absolute superstar, doing a very sweet, calm and obedient test to be placing 5th in the EvA 95, and then backing it up with a double clear jumping to finish in overall first place! I couldn't believe it, for him to come home with a win at his first ever horse trials was a sensational effort. Despite being quite green on cross country, he was very brave and flew over everything. He also won the award for the best performed off the track thoroughbred, quite fitting seeing as he has only had 11 weeks jumping since being off the track! I am very excited for this horse's future, he has definitely cemented himself a spot as a keeper on my team of horses!