Sophia Landy- Rider Update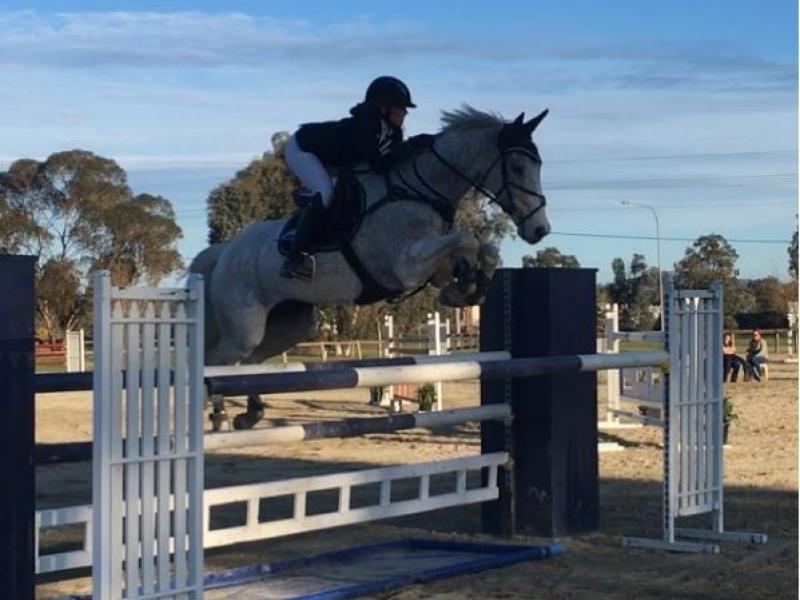 We had our first bigger show for the season, the Border Districts Show Jumping Club Show at Albury, which proved to be a good outing for all the horses, with lots of clear rounds to be jumped. ESB Irish Hobbit was really stepped up, jumping clear around 1.25m and 1.30m tracks with ease and doing a competitive jump off in the 1.20m class. He was really great! ESB Golden Geisha had an up and down show, starting with a super clear in the 1.15m finishing in 5th place. She had her first 125cm start but had a few rails down. On Sunday we jumped two great rounds in the 1.10m and 1.20m to finish on a good note.
Luna Eclipse jumped very well in the 90cm and 100cm classes, stepping up to this with ease.
And last of all, Hughie was a bit of a star, jumping so well (and big) in a range of classes, finishing off with a great round in the 1.04m - a pretty incredible effort for a horse that only started his jumping career one month ago!
It was a very busy week following the Border Districts Show, with lots of horses to be worked and in between all of this I took Geisha to my dressage coach Manolo Mendez for a few days to have some lessons. This was very worthwhile, and I was pleased to hear how much he thought she had progressed since he last saw her. Back home on Friday we were flat out getting ready for another weekend away, this time at Friends of Werribee, whilst also trying to work all the horses that had missed out while I was away! Finally at 7pm all the horses were worked, truck packed, and the horses competing all washed, plaited and ready to go so we hit the road for Werribee!
It was a slightly slower paced weekend with only two horses competing (which was a nice change!). Luna Eclipse was doing her first ever EA event in the EvA 95, and Geisha was in the EvA 105. Both horses jumped double clear to finish on their dressage scores which was really great. Luna did a fantastic test, and this with her double clear left her in 3rd place, a fantastic result. I am loving riding this mare. Unlike so many of my other horses she is so straightforward and rideable! Geisha (as much as I love her) not so much… She showed massive improvements in her dressage and a few pretty flash moments, but there is still a long way to go so she was right down the placings. However, she found the jumping an absolute breeze and gave me a great ride. Sometimes you have to be happy with improvements even when the scoreboard doesn't reflect it at the time!
I am now looking forward to the upcoming Boneo Cup and Australian Show Jumping Championships!