Sophia Landy- Rider Update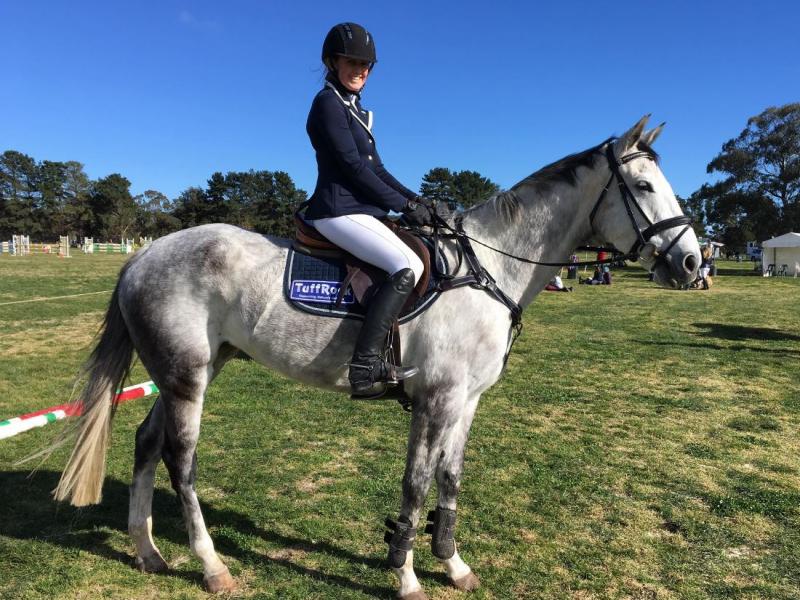 It has been a busy month, with lots of coaching throughout the school holidays and so many young horses! July started off with running my own 5 day riding camp which was a great success and lots of fun. I loved seeing how much everyone progressed throughout the week, riding both their own and some of my horses. I am definitely looking forward to making this a regular holiday program! As soon as this camp ended I headed down to Tooradin Estate for the camp there, which was a great opportunity to catch up with all my clients down that way. To top the week off, Andy and I even managed a quick visit to the farm for two days to visit my family and have a ride on the beach! Back home again to Euroa and reality, it was time to get back to work and stuck into the horses that had had a bit too much time off over the last two weeks!!!
The superstar of the team, Zone is back in action and is continuing with water walking three times a week, as well as being ridden on the road every day. We are just trying to build up as much strength as possible through trotting straight lines on an even and firm surface, so that he will soon be able to withstand the extra strains of jumping. The water walker has been a great way of building up his fitness without extra concussion on his joints and he is now starting to look a bit more muscly and fit again, rather than so fat! Don't worry, he's still fluffy though!
I have been kept very busy with all my breakers over the last few weeks, but am pleased to say they are all progressing on track. ESB Golden Chuckle is now broken in and progressing well, and I am well on the way with Koyuna Courageous (Cody) and ESB Golden Bonnie, having ridden them both a couple of times in the round yard. Chuckle proved to be a bit of a challenge (chestnut mare beware!) but in the end has settled down really nicely and is quite happily walk, trotting and catering around the arena on the buckle as well as hacking out. She is already 4 years old so I am looking forward to doing a bit more with her shortly. The other 4 year old on the block, ESB Irish Lust has been coming on in leaps and bounds – quite literally (watch: https://www.facebook.com/SophiaLandyEquestrian/videos/1944272959190602/) having learnt to jump (and buck when she is feeling good!) However she really has stepped up, and begun to grow up, having had her first ever outings and behaved beautifully.
We have been to two low key competitions , but made them both in to very busy days through taking so many horses!
Shepparton Open CT was a great day, with 4 horses going and all placing!
Geisha showed improvements to place 1st in the grade 1 against herself. My off the track mare Luna placed 1st in the Open 3 with a lovely test and clear jumping. She was super and I'm thrilled with this result for her second ever event.
Dennis Haywood and Jan Griffiths lovely ASH mare Glenlock Valley Miss Kareena placed 2nd to Luna in the Open 3. This was her first ever event and she was an absolute gem. This lovely mare is coming up for sale and is showing lots of potential as an eventer - she seems to have it all!
And Hughie, a new thoroughbred gelding placed 3rd in the grade 4, jumping a lovely clear round which was fantastic considering he had his first ever jump just a couple of day beforehand!
The following weekend we headed to Werribee, this time with 6 horses! The same four as the previous weekend but with Lusty and Hobbit in addition! Saturday unfortunately was a bit of a write off, as jut upon arriving we found out that the Freshman SJ scheduled for the day had been cancelled due to the high winds. While it was disappointing after the early start and a long enough drive, the wind was simply out of control and it would have been dangerous to jump! So instead I had my own dressage freshmans day (in jumps saddles) making the most if the available dressage arenas and familiarising all the horses with the judges boxes and white arenas! It turned out be a great exercise, especially for Geisha who performed her best dressage test to date – shame no one was watching! Thankfully the Sunday competition went ahead with much better weather conditions. The highlight of the day was Geisha placing 2nd in the 1.10m class. She jumped amazingly so I am absolutely thrilled with this result, which is her best to date. She and Hobbit both also jumped in the 1.20m class, but unfortunately each had a rail down. The other horses all put in solid efforts for where they are at in their training making it a worthwhile weekend to wrap up a busy month!