Sophia Landy - Rider Update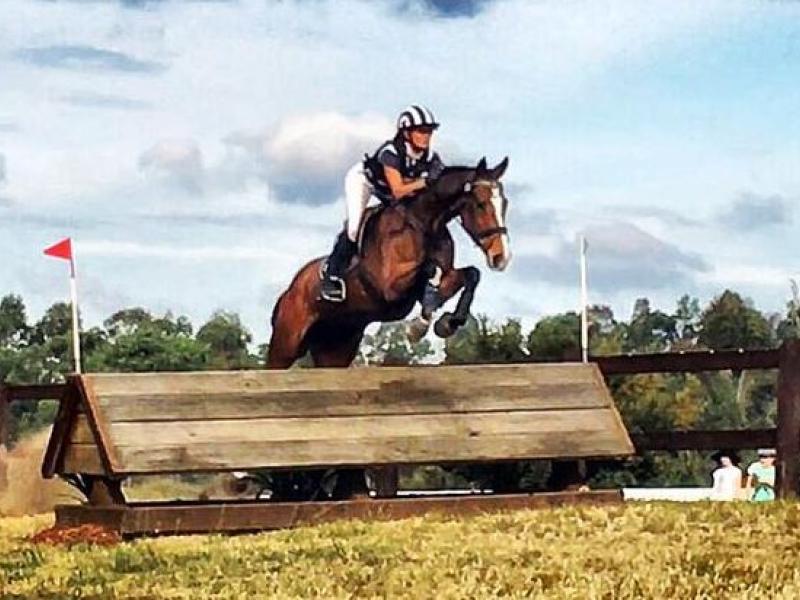 It has been an exciting month, with Sophia Landy Equestrian relocating to our new property in Euroa, lots of travelling many to competitions – all the way to Sydney and back! – and a couple of new horses on the block!
Having originally planned on riding Zone in the CCI 2** at Sydney 3DE, we did a replan once he became injured and instead I thought we'd go to the much closer event at Ballarat. However as it turns out I was too slow at getting my entries in and so with horses in need of a run I decided to make the long trip up to Sydney, even if it was just for the EvA 105 class! I was also pretty keen to check out the amazing venue SIEC to which I had never been before.
So on Thursday morning we loaded up Annie, Geisha and Vanessa Hawkins' ESB Irish Autumn and hit the road. We stopped off on the way at Oxley Reserve to have a cross country school which was really great as there was a variety of ditches and banks and drops, all the kinds of things which are hard to school at home! After a successful little schooling session we were back on track and spent the entire day on the road until we finally arrived at SIEC 12 hours after we had left home!
Friday was the 5yo Young Event Horse class for Annie and as usual she did not disappoint! She was a little superstar, showing off how incredibly rideable she is and was one of the highest scoring horses for the jumping phase, getting an 8 out of 10 for her style over a fence. She sure is one stylish little lady, and did very well considering she is only 15hh and competing against much bigger flasher horses to place 8thin the class! I was very happy with her and as usual she was quite happy with herself too!
Saturday was dressage day for the EvA 105 horses Geisha and Autumn as well as cross country day for everyone else. Thanks to having given Geisha some of TuffRock's amazing GI (gastro-intestinal) product the night before, Geisha was the most settled she has ever been both in the warm up and the actual test, and I was thrilled with the new mindset which she approached her dressage test with. Autumn was fantastic in the dressage, being extremely rideable and doing everything I asked so I was also very happy with his efforts. With the dressage done and dusted I was keen to get out on cross country course. I had a last walk around the Pre Novice track right while the CCI 3*** was going which I really enjoyed getting the chance to watch, although it did make me wish I was back on board my amazing Zoney pony!
Insert photo "Autumn"
Geisha and Autumn both gave me a fantastic ride cross country. It was no surprised that Autumn did, being established, rideable and very scopey he just ate up the course and is feeling very ready for a 1* start. Geisha was amazing. She is still such a green horse, having only been in work for just over a year now, but showed off her natural boldness and athleticism by making light work of the course. I was so thrilled by the way she coped with all the different and new questions, and think she is going to develop into a bit of a cross country machine as she progresses!
On Sunday morning we were up early packing up and getting ready for the show jumping. Once again both horses were on their game and jumped a beautiful clear round each to finish off a great weekend. Neither had placed this weekend but I was very happy with their efforts and overall performance which made the long trip worthwhile. So we hit the road home again, and this time didn't make any stops on the way so made the trip home to Euroa in a quick 8 hours!
The next event was Woady Yaloak two weeks later, a much lower key but equally successful outing and great way to finish the season. Geisha produced yet another double clear performance to finish 11th in the pre novice, and Autumn stepped up to 1* and finishing in 7th place!
My other exciting news is that we have a new home and base for Sophia Landy Equestrian. Along with my boyfriend Andrew Hill, I have just started renting a gorgeous horse property right on the edge of the Euroa town. We have 12 stables, post and rail paddocks and smaller yards, a round yard, a sand 20m x 60m dressage arena and a grass arena for jumping, as well as access to trail riding tracks. I am very excited to have my own training facility and plan to make the most of it throughout the off season with some of the exciting young horses I have coming through.