Sophia Landy - Ambassador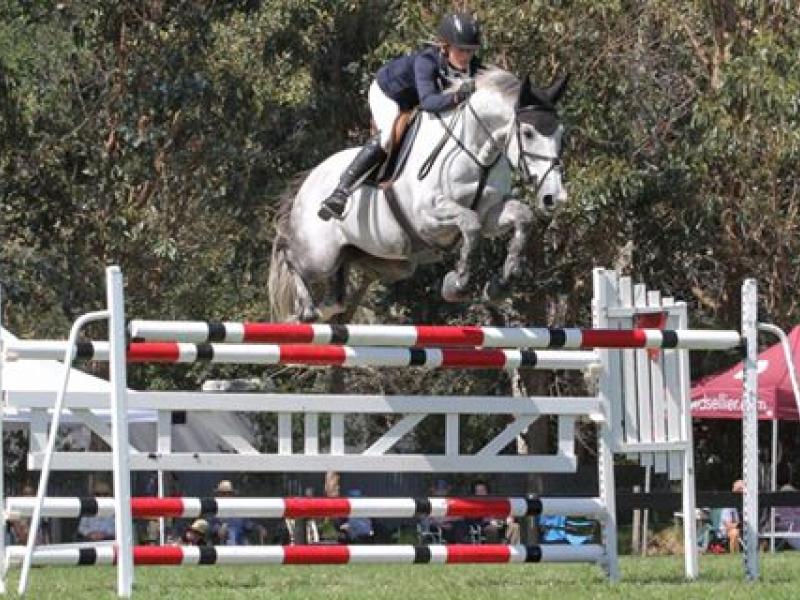 The first weekend of March we drove all the way down to Lang Lang for the PPSJC Sam Williams Equestrian Grand Prix Show, where I was set to have my first Grand Prix 1.40m start! From our new location at Euroa it is now over 3 hours driving instead of 10 minutes to get to Lang Lang, but as always it was a great show and the surface was amazing to jump on making it well worth the drive. We stayed at Tooradin Estate on Friday and Saturday night, where I used to live and work, so it was lovely to be back there for a quick visit! I was very happy with how both my horses performed. Geisha stepped up, and jumped around her first 110cm and 115cm tracks very confidently. There were a few green mistakes and rails here and there but I am really happy with how she is jumping! Zone was amazing, jumping clear in the 125cm Futurity class to get into the jump off. We were early to go in the jump off and with a very speedy clear round it looked as though we would win, but two other riders managed to sneak in ahead of us by less than 0.3 of a second so we had to settle for 3rd place instead! All the same I was thrilled with the result and ready to tackle my first Grand Prix track! Zone was amazing, and showed how far we have come together to successfully complete our first 1.40m track together. It started really well, we had a slight hiccup in the middle of the course resulting in a few rails, and then we finished off in fine form. It was really an amazing feeling to jump such a big track, it felt like I was in the air forever and ever!
Back at the Euroa Horse Park we had a crazy week with me riding 15 horses each day, including a catch ride, Sarah Jelbart's Rivalea (or Allie as we call her) who I would be competing at Tobimbuk the following weekend. As it is so hot we start our day in the dark at 5am, usually finishing up by around 2pm. I always savour those first few hours in the dark and while the sun rises – it is a beautiful time of the day to be up and about and nice and cool for working horses too!
On Friday we set off to Tonimbuk Horse Trials where my young horse Annie (ESB Irish One) was set to do her first ever horse trials. I bought her as an unbroken 3yo and she has been an absolute pleasure to produce to this point. She was perfectly behaved all weekend, doing a sweet dressage test and jumping double clear. She really is a super cute little horse!
Geisha (ESB Golden Geisha) also started in the intro - much to her disdain I think after having jumped around a 115cm track the weekend before! She was super with a very confident double clear and showed lots of improvements in the dressage phase.
My last minute catch ride on Sarah Jelbart's mare Rivalea in the Pre-Novice went well given how few times I had ridden her beforehand. She did a calm consistent test, had a slight hiccup at the start of the show jumping with a stop at the first fence before proceeding to jump clear, and then gave me a super clear ride cross country.
I also have some very sad news regarding the star of the my team, Zone. I was devastated to discover that he has injured a suspensory ligament which will take around 12 months to heal. The ultrasound and X-rays show that it is a chronic (old) injury that has been re-activated, so it shows just how amazing and tough he has been to stay sound for this long competing at such a high level.
This horse has been and is the horse of a lifetime for me, he is so so special and I love him more than words can describe, so I will be doing everything I can to get this right.
This next year is going to be the most important year of his life!
While this is absolutely shattering, I am fortunate to have the ride on a few other pretty talented horses who will keep me busy while Zone makes a recovery.
We were off to Shepparton the following weekend with eight horses (!) only two off which were my own, leaving me no time to dwell on Zone's injury (although I did get stuck into icing him like 10 times a day!). It was a full on weekend but we got through it ok and all the horses performed really well for where they are at. I'm not going to go into all eight horses results, but these are the highlights! I rode three of Vanessa Hawkins young ESB Irish Sport Horses around the 60cm and 75cm classes each day, and they did an exceptional job considering they only just started jumping a couple of weeks ago. It was their first ever outing and all three were perfectly behaved and showed some serious scope over a fence. These horses among others are for sale. I also enjoyed competing on ESB Irish Autumn for the first time, who jumped a super clear round in the 105cm making it feel incredibly easy and then proceeding to jump around two 115cm track over the two days with a rail down in each. I am still getting to know 'Naughty Auti who's not naughty' as we call him, but am really enjoying the ride on him and looking forward to getting him out eventing! Last but not least were my two little superstar mares, Annie and Geisha who must have realised that they had big shoes to fill and a lot to live up to if they were going to make up for Zone's absence at the show. Annie (who is definitely the cutest pony out) jumped a clear round in the 90cm each day as well as stepping up and tackling her first ever 104cm track, where she jumped a super clear round to place 6th! Considering she was jumping around the 75cm at her first ever show only 5 weeks ago I think this is a pretty amazing achievement for her! I was also thrilled with Geisha, who jumped clear around the 105cm on the first day, and then jumped a fantastic clear round in the 115cm on the second day, getting herself into the jump off where she placed 5th! She felt very scopey and confident, a great result seeing as she has just moved up to this height bracket. So while it wasn't quite the same as having Zoney pony out collecting ribbons in the main classes, Geisha and Annie did both place in classes in the main arena – good on them!
This week I have taken Geisha to my dressage coach Manolo Mendez's place La Mancha for the week and as always am finding this such a valuable experience. Geisha is definitely enjoying some of the perks of being my new number 1 pony – at least until Zone is better!