Sarah Hudson- Update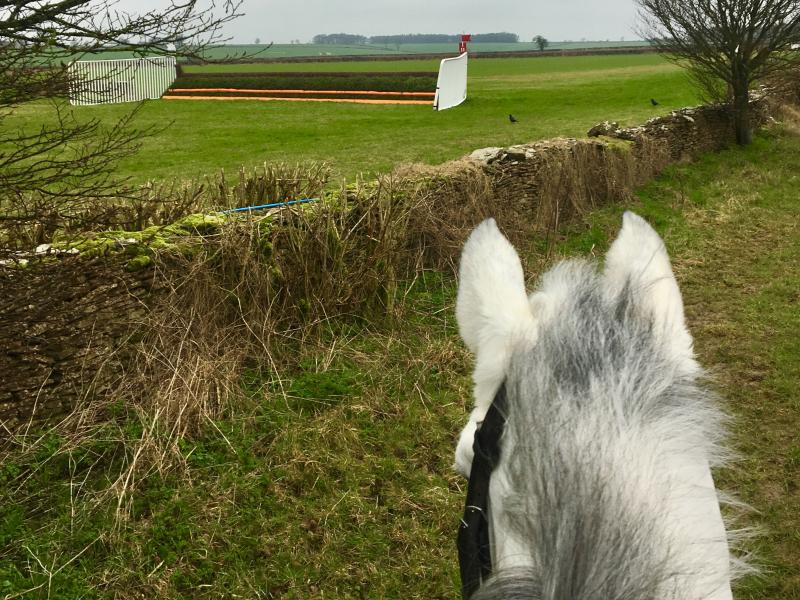 April has been a busy month over here in England! We brought home ribbons from both Swalcliffe and Gatcombe horse trials, I turned 25 (yay), and I experienced my first Point to Point race meet. England continues to stun me with it's ever-changing stunningly green and flower-dotted countryside, and as the weather begins to change I'm managing to progressively get my farmers tan back! Not entirely sure whether that's a good thing though…
Swalcliffe and Gatcombe were our next two events of the season, with a full lorry full of horses competing at a variety of levels. I had two 4am starts, which weren't entirely fun at the time, but having some positive comments from fellow riders and spectators about the quality of the horses' turnout made it all worth while! Each horse donned daisies on their hinds, thanks to Daisy's custom quarter marking stencil, and my determination to make everything pretty! I was quite pleased with the result. Daisy took both events by storm, bringing home placings on each of her horses, and giving me another great experience at each event. It's so exciting to be able to experience such different venues, with completely different styles of fences, and green, grassy XC tracks. I was definitely not in Kansas anymore!
After the two events, we worked on some gallop fitness with the horses now that the ground had become more manageable. What an experience this was. Back home, a lot of the horses that I train are thoroughbreds, and I don't think I had appreciated what it felt like to ride an animal that was bred and trained to run. Warmbloods don't quite share this skill; I've come to learn! We took a team of Daisy's horses up to the gallops, as well as to a deer park near by, that had a lot of open land and hills to work the horses on. I spent more time kicking than I did going fast; it was hysterical. It's such a different world to have to teach horses to gallop, rather than experiencing them understanding the concept of speed naturally. So when I return back to Australia, I'm going to have much stronger calves and thighs with thanks to all the kicking practice I've had.
Finally, last week we attended the Berkeley Point to Point, which is something very unlike horse racing back at home. The Point to Point course consists of a 3 mile run, with 19 steeplechase fences, however rather than being held on a round race track, the course is set within fields and paddocks, quite similar to an eventing XC course. We spent the day eating an outstanding picnic that myself, my boss and the working pupil had prepared, including more sausage rolls than I could count, in addition to all of my pies and quiches! The working pupil Lucy and myself also managed to walk the steeplechase track with one of the jockey's riding on the day. What an experience! The steeplechase hedges where huge! 1.30 brush hedges, with orange rubber take off rails, and a gradual slant to make the fences easier for the horses to jump. The ground was an outstanding well-watered lush green flat course, with a few white running rails dotted throughout the paddocks to provide the horses with some direction. It was quite surreal and such a cool event to attend.
Overall, England has been a remarkable journey so far! The warmer weather has meant that I'm able to break out my Dublin Cool-It Gel Silicone Grip Tights without having to wear thermals underneath. Quite exciting! Tomorrow I'm off to Badminton Horse Trials to spectate and shop. Coming up soon, we've also got the Berkeley Ball to attend, as well as some high profile events with the horses, so stay tuned!