Sarah Hudson - Ambassador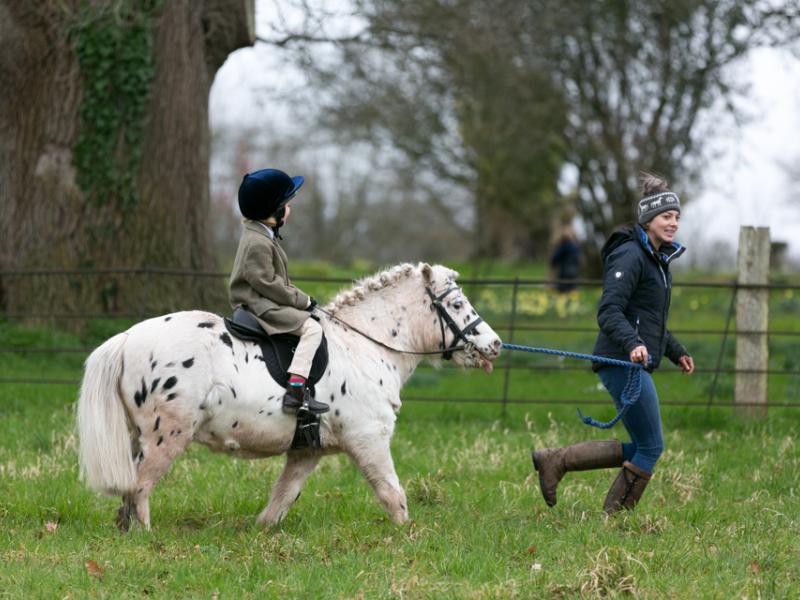 What a surreal experience England has been so far! In the past few weeks, I've taken on a head girl role, lived through my first snow day, met some world-class Olympians, attended my first English Hunt meet, and finished it all off with the Event season starting, and grooming for my new boss. I'm not even sure where to begin!
At the beginning of February, I made a short move from my working pupil position with Bill Levett, over to a yard on the other side of Gloucestershire, to become the head girl for Daisy Berkeley. Daisy has represented Britain four times, picking up an 11th individually at Blenheim Europeans, winning Team silver in the Aachen World Championships, Team Gold at Rome Europeans, and Team Bronze at the Beijing Olympics. So to say that I was thrilled to be her new head groom, was definitely an understatement. Her yard is based in Berkeley, where she lives on the Berkeley estate in the manor house, and we hack through Berkeley town and straight past Berkeley castle where her in-laws live (slightly amazing). Daisy's property is beautiful, and when I had arrived, the cold was finally beginning to subside, however I was lucky enough to experience snowfall prior to the weather heating up. Turns out that snow flakes are a real thing (weird, right?), that they blow into your eyes and cause temporary blindness until melting, and that two pairs of Dublin socks are an ideal solution for freezing toes. Nevertheless, the snow was an outstanding experience, and a far cry from the heat wave that was gripping Australia back home at the time!
Competition and outings kicked off right away at Daisy's, and it wasn't long before we were out and about a few times a week, adventuring across the English countryside with her lorry, Winston. Weekly, Daisy and I would take a team of horses to Summerhouse Equestrian Centre for their show jumping competition, and it was my first time attending Summerhouse with Daisy, when I met British Olympian and great riding inspiration, Mary King. I could hardly contain myself when Mary approached me and asked if I needed more water for the horses as our tank was empty. Mary then proceeded to head off and fill up a bucket, bring it back to our lorry, and pass me over the water. Mary King brought me water! That one is going down on my list of greatest stories ever. We then had a chat about horses, and the Olympics, and my new job with Daisy. I could hardly contain myself! Following the talk, I had the opportunity to watch Mary ride, as well as watch Daisy place on a few of her horses. Summerhouse was quickly shaping up to be one of my favourite weekly occurrences, with Daisy winning a ribbon each week, and me having the chance to see some of the top International riders out and about with their horses.
As well as an eventer, Daisy is also an avid hunt jockey, meeting the Berkeley hunt weekly on her hunter Kevin. After a few hunt meets where I had stayed back to run the yard, one easy Saturday gave me the chance to head out to the meet with Daisy, and socialise with the meet prior to them leaving for the hunt. On the morning of the hunt, I plaited Kevin and prepared him as per usual, but I had also had the chance to include her daughter's pony Alfie in on the fun, giving him his own hunt plaits and preparing him to attend the meet with his little rider, Mary. We loaded Alfie and Kevin into the float and made the short 5-minute drive to where the meet was, and as Daisy went off to prepare for the meet, I became head pony supervisor, and took Mary and Alfie around the field, meeting all of the hunt riders, and snacking on cakes, rolls and drinking port! It was all very authentic! I wore my Dublin Harrowed Boots, as the ground was still a little wet this time of year, and spent my morning trotting around with Mary and Alfie. The day was unbelievable. After an hour of snacking and chatting, the meet then prepared to leave, the hounds were off, and I got to watch all of the riders leap their first hedge (some already falling off!), and gallop off across the fields. Mary, Alfie and I hung back, did a little more trotting, and then made the short journey home so that I could finish the yard and ride a few horses before Daisy returned from the hunt.
Finally, after a few weeks with Daisy, the eventing season was set to begin. Our first event was Tweseldown, which was an almost 3-hour journey from Daisy's yard, which meant a 3am start for me! Unlike Australia, one day events in England always include all three phases in one day, and with 3 rides at Tweseldown, this meant that Daisy had to walk the XC course prior to her rides, which were all on a very tight schedule. So up I got at 3am, fed and loaded the horses onto Winston, and we set out for our first event together. Upon arriving at Tweseldown, it was safe to say that I was a little excited. The venue was so different to anything I had seen back home, and no one ever took their horses off their lorries! I've become incredibly well versed in stud hole tapping and studding inside of a lorry now, and even better at tacking up a horse when it's locked inside a bay. Great life skill, if you ask me. The event ran incredibly smoothly, and around midday Daisy's horse owners arrived at the lorry with their 'picnic', which, as I have now learned, is an eventing tradition that involves socialising, feeding me cake and wine, and watching the horses compete. It was remarkable! All horses performed so well, and Rolo competitively known as Electoral Roll, managed a first place in his BE100 class, finishing on his dressage score. It was so much to take in, and I couldn't possibly have had a better time at my first event with Daisy! She is an excellent rider to groom for, and her horse owners are so welcoming and kind. I knew I was going to love my head groom position working for her!
So that is a not-so-quick wrap up of my past few months in England. Coming up, Daisy and I will be attending Swalcliffe horse trials, Gatcombe horse trials, and the Berkeley Point to Point meet. We will also be taking the horses to the gallops, as well as up to the deer park when the weather heats up. So stay tuned, and I shall see you next month!