Naomi White- Update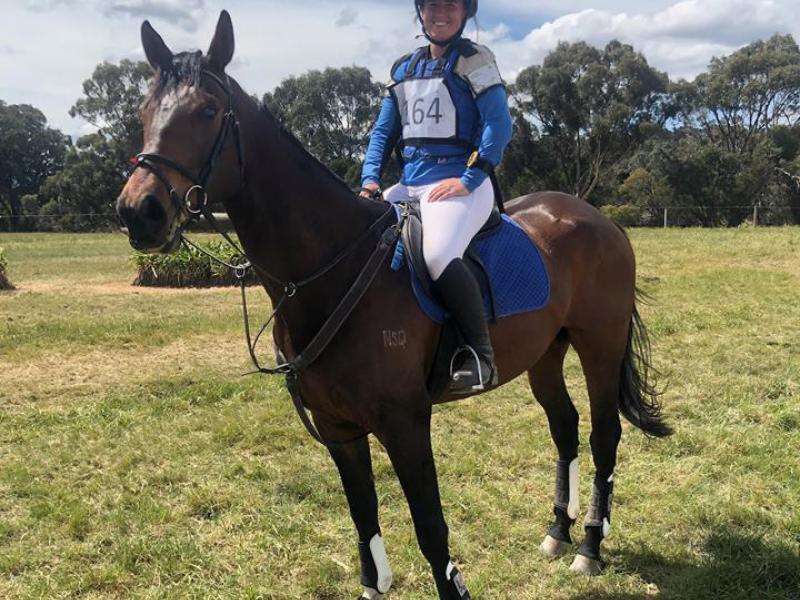 The beginning of my two new horses' competition career has gone well so far! I've loved including the Black by Dublin range into our competition wear.
I started by taking Austin 'Austin's Adventure' to Spring Horse Trials do the EV65 and despite catching me off guard for a fall in the cross country warm up, he handled his first competition atmosphere quite well.
The next competition we attended was Yarrambat Horse Trials in the open sections with Austin in the open Grade 3 and Maverick 'Great Northern' in the open Grade 4 for his first time competing. Driving there I felt more nervous than I was on my way to my first 3 star competition because with young horses you don't know what to expect from them on the day and we haven't been a team for very long so they're full of surprises!
Austin fell madly in love with Maverick and made sure to communicate with him often when I was trying to keep his attention in the arenas, but he tackled some tricky cross country questions so I was pleased with his small improvements from the last competition. Maverick found the atmosphere quite stressful on day one, as his last attendance at a place with that many horses would have been the race track a short 3 months ago. Each phase that went along he settled more and actually jumped around clear with just a bit of time. Success! As I had actually said to my partner before leaving for him to keep his phone on in case one of them tip me off out of excitement.
Our last competition for this season was Avenal Horse Trials which shocked me with the times having both horses three phases all on the one day. Compared to my desk job, this was going to be a stretch on my stamina! Austin showed potential through the dressage at the times he wasn't being vocal and again once we keep his head in the game, the jumping talent is also all there. I was so impressed with the improvement of Maverick's attitude from the last competition, he knew it wasn't the racetrack this time and jumped around double clear to finish 5th in the EV65 and he also brought home the rug for best performed Off The Track horse in his section!
It is great to start feeling an understanding of the way both of these horses work, and with plenty of years left in them we will continue ticking away to sort out the fine details at the lower levels. They will both take it easy through the summer whilst I work on the cherry farm to save some money to get out heaps next season!