Jade Salpietro - Update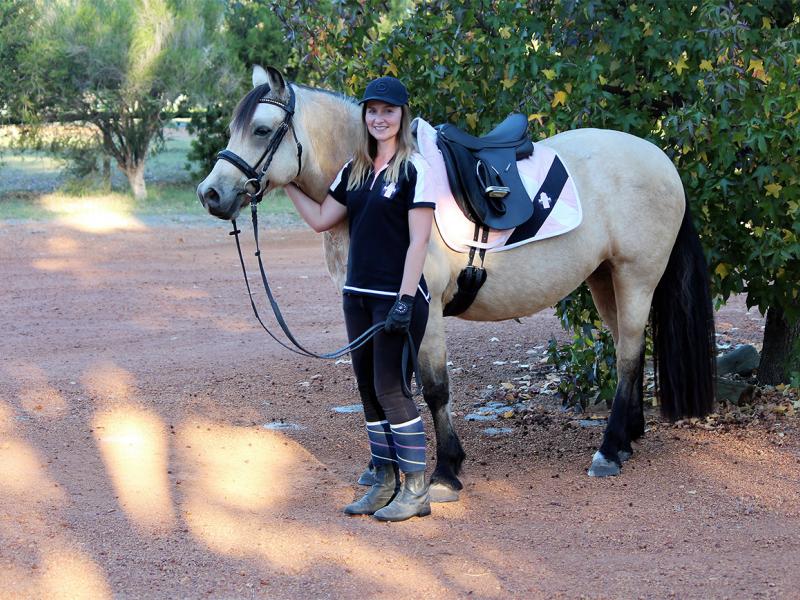 I had an, "I'm getting out of horses" moment the other day.
It was after an awful lesson with a new coach. After a trouble-free warm-up, Honi became "stuck" -- that sticky, resistant place green horses go to when things are a bit hard or confusing.
I could feel that I wasn't going to get her "unstuck" without an explosion and a battle of wills. And being the nervous nelly that I sometimes am, I didn't feel equipped to have that discussion.
So, I did the thing you're not supposed to do, and I got off.
The look this coach gave me was not pretty. Someone should really tell her that her face is a completely open book. She gave me an "are you kidding me?" glare and proceeded to tell me that I should sell my horse before I ruined her.
I thanked her for her honesty, untacked my pony and hid in the tack shed and cried. I may or may not have stayed that way for several hours. Once the tears had dried, I wrote up a "for sale" advertisement and then fielded about 50 messages from friends demanding to know why I was selling my dream pony.
The thing is, what this coach imparted was true. It wasn't delivered in the kindest way, but she said it for the greater good of both horse and rider. I've had this fear even before I bought Honi as a yearling. It's why I've sought out professional help every step of the way as we develop our partnership. I've always known I need as much education and assistance as possible to prevent my nerves from creating an unsafe and inharmonious relationship.
It's also why I took on a second horse last year. My kind schoolmaster, Phoebe, allowed me to push the comfort zones of my riding confidence in manageable chunks. So, you can imagine my dilemma when right after this awful lesson with Honi, Phoebe's old owner asked me if she could have her back. There was a pretty huge, personal reason for this request and after a couple of hours of deliberation, I knew the right decision was to agree.
At that point, I was feeling pretty sorry for myself. I contemplated life without horses: more free time! Clean fingernails! Less expensive hobbies!
The time came for Phoebe to leave to her old (and new) home, and I was surprised to see her owner rock up without a float. She dragged a saddle out the car and announced she was going to ride Phoebe home instead.
As she stepped into the stirrup and swung her leg over, the hugest smile settled onto her face. Phoebe's back seemed to rise up another inch and she powered down my driveway. Once the pair reached the gate, they broke into a happy trot. It was synchronous, joyous and perfect.
And in that moment, instead of feeling depressed about my shortcomings, I remembered why we push through the hard times, the awful lessons, the vet bills, the early mornings, the crappy weather and lots and lots of manure.
We are constantly reaching for that beautiful horse-human connection where our minds and bodies trot to the same rhythm.
It's safe to say that Honi and I are nowhere near that point yet. But it's definitely the place I plan to be.
This update wraps up my year of being an Ambassador for Dublin Clothing. It was an amazing experience to be part of the Horseland catalogue and to test ride an assortment of Dublin apparel and safety gear. I've always donned a Dublin helmet, but I'm also now a convert to riding tights and knee high socks. If you're keen to continue to follow my riding journey wearing my Dublin finest, you can follow my new Instagram account - @copywritingequestrian. Happy trails!